Let's take a closer look at this year's final show. Where are the dark horses and who is going to win?
We don't take it that seriously, so please forgive us, if our estimation does not meet your taste.
01 Czech Republic:  electro to wake up
It's good to have many music genres in the ESC, furthermore the singers for a country don't have to be citizen. More and more it's getting mixed up. The two men Benjamin and Casper are actually Norwegians, Dominika is the only Czech in this group. They could proof that the audience loves this kind of song. Especially as an opener for the Grand Final it a great track.
02 Romania:   Spicy, Sexy, Romanian
This is another rousing entry, which enforces the audience to dance. There is an interesting hook, which will remain in people's mind. The choreography is entertaining and due to the positive attitude of WRS, it will and the atmosphere is it will enthuse the audience in the PalaOlimpico. WRS has a new haircut and is wearing a traditional Transylvanian jewellery belt.
03 Portugal:  the discussion group 2.0
The very sympathetic and authentic singer MARO has brought her singers with her. Not much is happing on stage, instead it looks a like discussion group, all standing in semicircle. With the chorus the action is coming slowly, the group is clapping to "Saudade, Saudade", in a smooth and convincing way. It's recreation for the ears. But it was well received in the semi-finals and in the rehearsals. Good Luck MARO!
04 Finland:  Rock from yesterday
The Finnish group The Rasmus has been very successful, but it's long time ago. Bad tongues say that they only take part in the ESC to save themselves from eclipse and to give their career a second chance. It's a Finnish rock song, which we have heard several times before. Nothing to jump from your sofa. The front singer Aki Hakala looks like the Stephen King's clown in "It", with a balloon.
05 Switzerland:  Black is the new black
The even dark stage is getting much darker now. Black is dominating all over. Also Marius is wearing a black leather jacket, black pants and there are only a few light reflects, projected on his face. He is getting the full attention. "Boys Do Cry" – this is a plea to cry, and it's easy to start right away – the absolute opposite of The Cure's "Boys don't cry". His voice is good, but this is not what people need after all the years of pandemic, they need something uplifting and positive. Spring is on and the summer is yet to come.
06 France:  Crazy Bretons
This year's French entry is not a classic chanson like last year, it's another electro song. Due to the fact that the group will sing in Breton language, this one has nothing French at all. The song could come from anywhere. It reminds of last year's "SHUM" by Go_A from Ukraine. Alvan is really doing a freaky dance show, when playing his synthesizer, while the girls from Ahez seem to be a bit shy do dance lively.
07 Norway:  the first gimmick song from space
There is no year without a gimmick song. This year it comes from Norway. The singers for Subwoolfer wearing wolf masks, nobody knows, who the singers are. Will the secret be lifted after Eurovision? The choreography is appropriate, the story ridiculous, as well as the title of the song. Nevertheless, it will guarantee a good atmosphere in the arena.
08 Armenia:  woman in a house with 1000 paper notes
This is probably not what people would expect from Armenia. Normally there is always a strong connection to the traditional roots, even in modern songs. But this year, it's an ordinary song, which could come from anywhere. The stage presentation shows an apartment, filled with paper notes and several surprises, when Rosa Linn is taking of some parts of it. For the viewers in the auditorium Rosa Linn will only turn to the audience in the last 30 seconds, when she is walking through a gateway. A nice melody, but unspectacular.
09 Italy:  the two golden boys
Like in previous years, Italy is sending huge stars to Eurovision. Due to the fact that they all have won the Italian Sanremo festival before, where normally a lot of established stars taking part. Mahmood has made a second place with "Soldi" in 2019 and for Blanco it's the first time at Eurovision. The handsome singers have do enjoy the home advantage, but even more the song is touching and the way they are presenting it, even more. In the bets, it's on the top ranks. If it's a winner or not, does not matter, as this will be a hit afterwards.
10 Spain:  Cuba 12 points!
The very attractive singer Chanel originally comes from Cuba. With her certain charisma she is going to bewitch the viewers. There is a very well prepared choreography, which is the most elaborated one of this year. Furthermore the sexy outfit with white and red rhinestones, it's a bit like a Jennifer Lopez show. It all starts with a quite Cuban trumpet intro.
11 The Netherlands:  a stylish song in Dutch with deepness
Another dark stage, but from the light effects it's more exciting than Switzerland. S10 is looking great in her cropped suit, better than in her outfit from the turquoise carpet. She sings about the difficult times having psychological problems, a very important topic. A beautiful melody, touching, but it will be sung in Dutch. Everybody with a little empathy can imagine, how this song is meant.
12 Ukraine:  the favourite of hearts
It's still unbelievable that Ukraine is taking part in the ESC, while the country is being attacked by Russia. Respect that the guys from Kalush Orchestra, who could make their way to Turin. It's also important to show that the Ukrainians are still there and that they can express themselves on stage with the Ukrainian culture, not being defeated. The song is catchy and the stage settings one of the best.
13 Germany:  the lovely guy with the guitar
40 years ago a young girl named Nicole has been singing a song for peace. This year, we don't have peace in Europe and a young man is on the Eurovision stage in Turin. With a guitar and other instruments Malik is singing about the good old times. He is very authentic and has a great charisma. It's a typical singer-songwriter style, with an emotional rap part. He could score well thanks to his authentic attitude.
14 Lithuania:  the glamour show of the 60's
This is a totally different song from all the others in this year's ESC. It's classy, it's jazzy and the singer Monika Liu looks amazing, a little similarity with Mireille Mathieu (from the hair cut). She is wearing a glittering dress, the lights are sparkling, it's a little retro, like in the 1960's, somewhere in a nightclub in London, New York or Las Vegas. The juries will love this entry and with her very special attitude and looks she will remain in people's minds.
15 Azerbaijan:  artistic and special
The Azerbaijani singer Nadir Rustamli also has a new haircut as well. Generally has a very special look, charismatic though. His intense song will have its fans, there is a special attention for a very sophisticated and skilful stage presentation. But this is nothing new at Eurovision, the Azerbaijani entries are often elaborated like this. There are big steps, where Nadir is sometimes laying down. Maybe this is nothing, people would like to hear, when it's spring time.
16 Belgium:  "Dirty Diana" in a revamped version
It all starts with a James Bond like intro, the climax and the instruments used at the time of recording. The chorus is without any doubts a new version of Michael Jackson's hit "Dirty Diana". Jerémie, who is also a football player is going to succeed in singing. A good start position can assure a lot of attention in the arena and in front of the expected 200 million TV viewers.
17 Greece:  a Hellenic masterpiece
The lovely singer Amanda is starting smoothly, very reduced, then the song is gaining more and more and a great climax comes towards to the end of the song. This is in a certain way a typical Greek song, but it's very sophisticated, about a long life love, where the loving ones want to die together. The stage shine blue and white – very Greek though. Amanda has a great stage appearance and captivating charisma.
18 Iceland:  Monotony caused by sleeping pills
Normally the songs from Iceland are fresh and show a certain creativity like Dadi or Hatari. This year it seems that the Icelanders have gone sleeping. Despite the sympathetic family on stage (three sisters and their brother Eythur), the song doesn't gain momentum. Even if it's lovely, the certain kick is missing. When listening to it a couple of times it grows and does not get out of your head. Maybe the elves turn into a dark horse?
19 Moldova:  the funny train ride from Chisinau to Bucharest
For the third time Zdob și Zdub take part for Moldova in the ESC, this time together with Fraţii Advahov, who is known for big orchestral arrangements with traditional singing and dancing. Inconspicuous in the national final, now they are going to shine with a fresh and exciting song, a great hook, which animates to dance and celebrate. It's about a train ride between the Moldovan capital Chisinau and Bucharest in Romania. A good idea, which could end on a top position. Beware it's catchy!
20 Sweden:  no ABBA this year, but pure authentic music
In the past year's the Swedish entries have been styled up to 200% perfection, from the drawing board to the charts. And many times ABBA has taken as a role model. This time it's not the case at all. "Hold Me Closer" is really nice and authentic. The singer Cornelia Jakobs, who has made good experiences in a girl group 'Love Generation' in the Swedish Melodifestivalen can now show her solo talent. She is a very natural person, barefoot on stage and a rough voice. Furthermore the song is really good, radio-friendly and is a real grower. A unique green disk is turning around and gives atmosphere of its own. Imagine this song in Italian language, could have been a Sanremo song as well!
21 Australia:  the huge Liberace Las Vegas show
This year is peppered with self-filled singers. One of them is the Aussie Sheldon Riley. He had a tough youth and is not standing on the ESC stage like a white swan. Born in Melbourne, where three times ESC winner Johnny Logan comes as well, maybe it's a good omen. With his great voice he will probably seduce the juries. Sheldon is lifting his rhinestone mask at the end of the song, very touching, but very special and camp, like the shows from the glittering Las Vegas show star Liberace.
22 United Kingdom:  a trip to space and back
For the first time since years, the UK is really among the favourites. The sympathetic singer Sam Ryder takes us to space and at the end he finds out, that there is nothing to do in space and returns to earth. The song has a great melody, it's a mix of Elton John, Freddie Mercury and David Bowie. In the sequence with the e-guitar, Sam is giving everything to reach a top placing for the UK. It would be well deserved.
23 Poland:   the dark horse is named Ochman
When everybody is talking about the mighty winners Ukraine, Italy or UK, there is one singer, who can be named as dark horse this year. Ochman has a great voice, a stunning song and a great stage show. The way he sings, the drama of his song "River" definitely stands out. A great starting positon could bring further points. Poland has never won the ESC, but this year the dream is very realistic.
24 Serbia:  Let's wash our hands
This is a very special entry as well. The charismatic singer Konstrakta is washing her hands in a washing bowl. Unfortunately, the song will be sung in the native Serbian language, so it's even harder to understand the meaning of the song. It's criticism of the Serbian healthcare system. The hand choreography has become a hit already. And it's also a sign for applause for deaf people. Konstrakta seems to play the serious artist, at the end she smiles and is dancing in the green room with every song on stage.
25 Estonia:  the Wild Wild West is back
The very sympathetic and handsome singer Stefan has a great aura. He could sing anything to convince, but with his western styled song "Hope" he could set new standards. Luckily, the team has decided not take real cowboys on stage, that would have looked dubiously. Instead Stefan's stage show is having sepia colours and it looks like an old film roll. He is jumping around and interacts with the audience.
Share This Story, Choose Your Platform!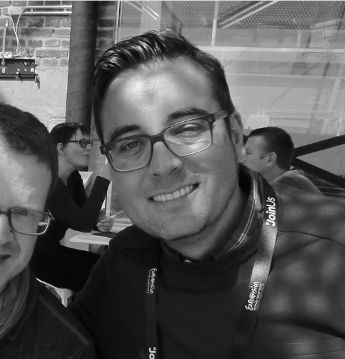 As one of the founders of eurovisionlive.com I am responsible for the interviews with the singers and the editorial content. My passion for the Eurovision Song Contest exists since my early childhood. The exotic music, different cultures and languages have given a lot of inspiration to me. Since my very first ESC in Dublin 1994 I particularly appreciate the get together and friendship of all the nationalities and Riverdance was a thrill!